We invite you to volunteer with us! We need servant-hearted people who enjoy rolling up their sleeves and helping where needed. Opportunities include workdays, meal delivery, helping our families connect to services and community, fundraising, special events, and much more.
COMMUNITY WORKDAYS
Community volunteers, youth organizations, and church members join Partners in Hope on the third Saturday of every month to serve at an isolated neighbor's home in the Lake Travis area. We offer help with minor home repairs, yard maintenance, rubbish collection, and disposal. But the true purpose of our work is to build relationships, provide hope, and demonstrate God's love.

Sign up as an individual, or invite your family, church group, workplace, or club to join with you.
Click on the VOLUNTEER button to the left to find important information for the next workday!
Planned 2021 Workday Dates:  June 19, July 17, August 14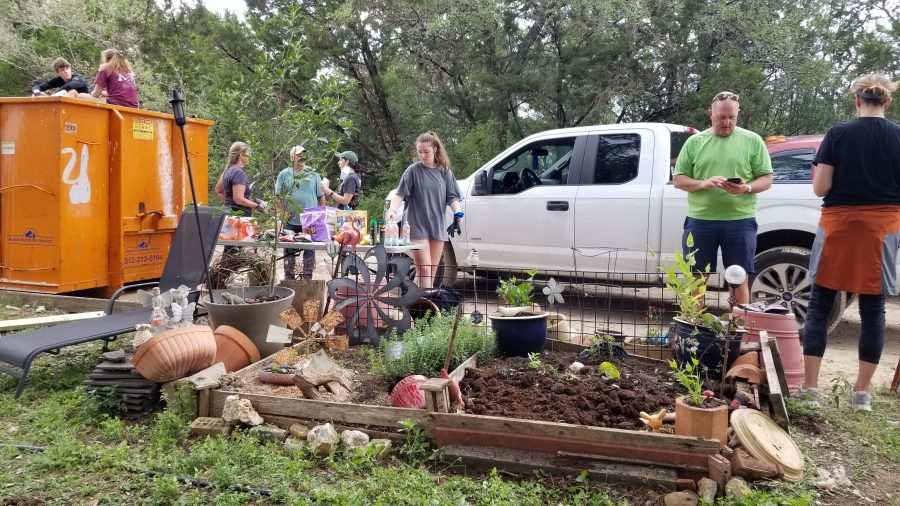 MEAL DELIVERY

Partners in Hope teams up with the Meal Train program and 40+ volunteers every week to deliver numerous meals and groceries to individuals and families in the Lake Travis area. With every delivery, we are helping to create a vital, personal connection and minimize the negative effects of loneliness and isolation.
SUNDAY SUPPERS 
Partners in Hope teams up with members of local churches to build relationships with isolated families in the Lake Travis area. Before the pandemic, our church partners hosted our Sunday Suppers (monthly dinners) and invited our families to share a meal, conversation, and prayer.
VOLUNTEER EQUIPPING
Partners in Hope provides targeted training to help volunteers increase their effectiveness at ministering to isolated people in Lake Travis. We offer video workshops via video conferencing or on-site (ours or yours) for individuals, church leadership, small groups, corporate teams, and outside organizations. This one-hour course prepares volunteers to better understand the mindset and challenges of those who are isolated, increasing the chances to make meaningful connections.
We strongly encourage all our volunteers to read  "7 Practices of Highly Helpful Volunteers."  Check out the link below to learn more about how Partners in Hope serves others through these best practices.
PRIVATE SERVING EVENTS
Partners in Hope organizes and facilitates opportunities for church groups, clubs, sports teams, and companies to serve together and connect with isolated individuals and families in the Lake Travis community. These partnership events create meaningful experiences for the volunteers and their neighbors in need.
WHAT CAN YOU DO?